There are no more items in your cart
Shipping

Free

Total

£0.00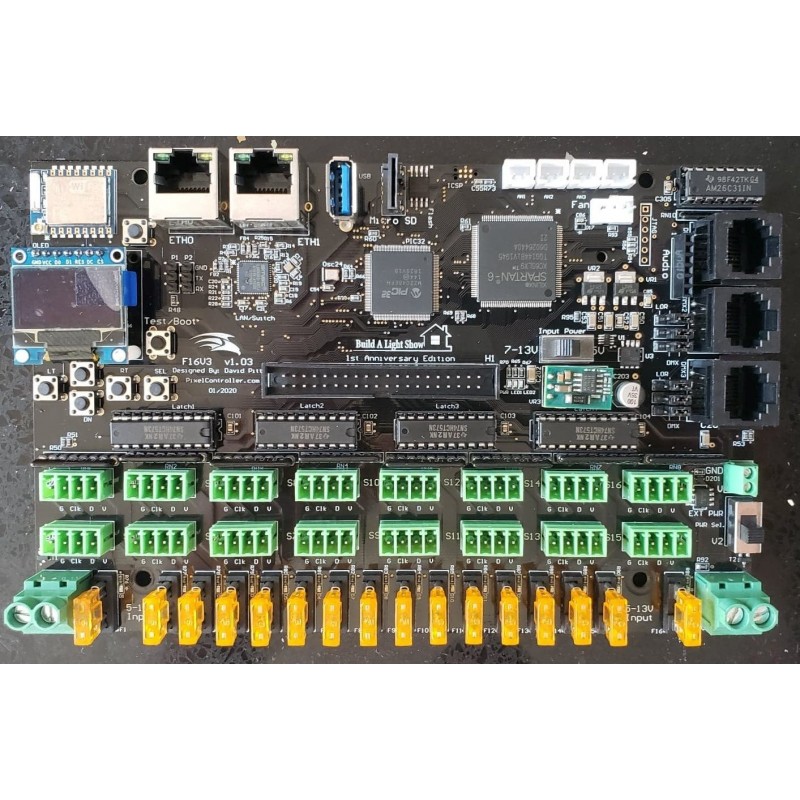  
Falcon F16v3 - Black Edition- limited run of 100 units!
Falcon F16v3 - Black Edition
To celebrate Build A Light Shows first anniversary, we commissioned a one off run of F16s - the Black Anniversary Edition.
If we are honest, there is nothing different about these other than the colour - but we thought it would be cool, and there will only ever be 100 of these, we have even numbered the test certs...........


Description
Falcon F16V3 Pixel Controller
The controller receives 96 universes of E131 data and can output pixel data to 16-48 strings with optional expansion boards.
Board current specs
New Features
96 Universes of E131/Artnet.
2-Port Switch to 'Daisy-Chain' controllers.
Wireless ESP-07 Module with board mount antenna. Optional external antenna can be ordered.
Falcon Player Remote Mode. The controller can store sequences on micro SD card and play in sync with FPP master.
Single 4-Layer Board that is 3/8inch smaller in height.
Ability to drive two expansion boards. (Up to 48 strings both local and remote).
Power
Board can be powered from pixel power or external power. Both inputs can be 5-36VDC.
Power output port to power switches.
Two independent sides of power. Each one can be a different voltage.
(Expansion board also has two independent pixel power inputs giving 4 independent ports of input power when using 32 string mode and expansion board)
16 - Fused outputs for main board and expansion board.

Number of strings
16, 32 or 48 with expansion boards.
All strings can use any of the 49152 channels this controller can receive as a start address.
Each string can be independently configured for null nodes, zigzag, forward/reverse, node type, pixel count , grouping etc...

Pixel per string
1024 pixels per string in 16 string mode, 1024 pixels per string shared between main and expansion boards.
String Types
All string ports can be any of the following string types. They all can be independently set.
WS2801 / WS2803
WS2811 / WS2812 / TM1804 / TM1803 / TM1809 / TM1812 / SM16715 / INK1003
TLS3001 / TLS3002 / CY3005
LPD6803 / D705 / LPD1101 / USC6909 / UCS6912
GE Color Effects (GECE)
LPD880X
APA 102
1903
SM16716
LX1203
DMX/Renard/Pixelnet Outputs
4 - Dedicated RS-485 outputs. 3 RJ-45 connectors and 1 3-pin connector (Not shown on image).

LCD Display,Push Buttons and Indicators
.96' OLED 128x64 matrix display for setup and status.
5 - Push buttons to control display. Up, Down, Right, Left and Select
Power LED indicator
Two multi purpose LEDS for status.
16 - Fuse LED Indicators
Temperature Sensors
1 - Processor temperature sensor.
2 - Additional Sensors

Voltage sensors
The incoming pixel voltages of main board are detected and displayed in user interface. (The webpage interface and OLED displays the voltages and temperatures.)

Documentation
Downloads
Network Firmware Updater

 -

 This software update firmware on F16V2R, F4V2, F16V3, F4V3 and F48 over a network connection.
Videos
9 other products in the same category: